Buka G. U.
Surgeon of the highest category, angio-surgeon,
Member of the All-Ukrainian Association of Plastic,
Reconstructive, aesthetic surgeons (VAPREH),
doctor of medical sciences, professor
Sclerotherapy in the aesthetic treatment of telangiectasias ("vascular asterisks")
Today we will talk about one of the most urgent and demanded problems in aesthetic medicine, which is at the junction of several specialties (surgery, dermatology, cosmetology) — vascular cosmetic defects of the lower limbs — aesthetic phlebology Doctor of medical sciences, professor.
What is aesthetic phlebology? This removal of cosmetic defects of the lower extremities — «vascular asterisks»?
Not certainly in that way. Aesthetic phlebology is the solution to all phlebological problems, using individually substantiated, complex, modern techniques (radiofrequency ablation — RFA, sclerotherapy, including foam sclerotherapy, miniflebectomy, medication and compression therapy), with maximum cosmetic effect: no incisions — no scars.
What is the relevance of this issue?
The prevalence of chronic venous disease in Europe ranges from 45 to 70% in a population of 18-79 years. It should be noted that among them the lion's share, and to be exact 55-60% is precisely the telangiectasia and the reticular vein, what patients often call «vascular asterisks».
Vascular asterisks, what is it?
Vascular asterisks are the established name of telangiectasias and reticular veins.
Teleangiectasia is an enlarged capillary in the subpapillary plexus of venous origin and having a partial inconsistency of the microvalves. Their color depends on their diameter (red, blue, etc.), which is from 0.1 to 2.0 mm. Whereas, the reticular veins are large in diameter and reach 2.0 — 4.0 mm. The telangiectasias are very diverse in their structure (Fig. 1, 2), for example, single telangiectasias are simple for sclerosing, whereas fan-shaped and stellate tend to recur; they have a feeding vein (Fig. 3.4).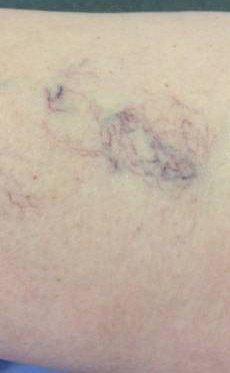 Fig. 1.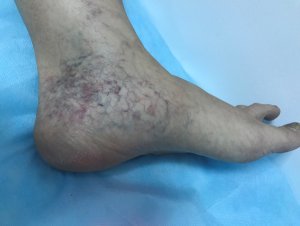 Fig. 2.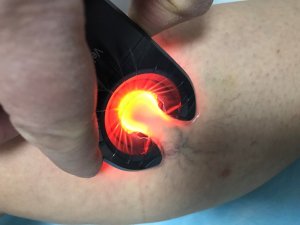 Fig. 3.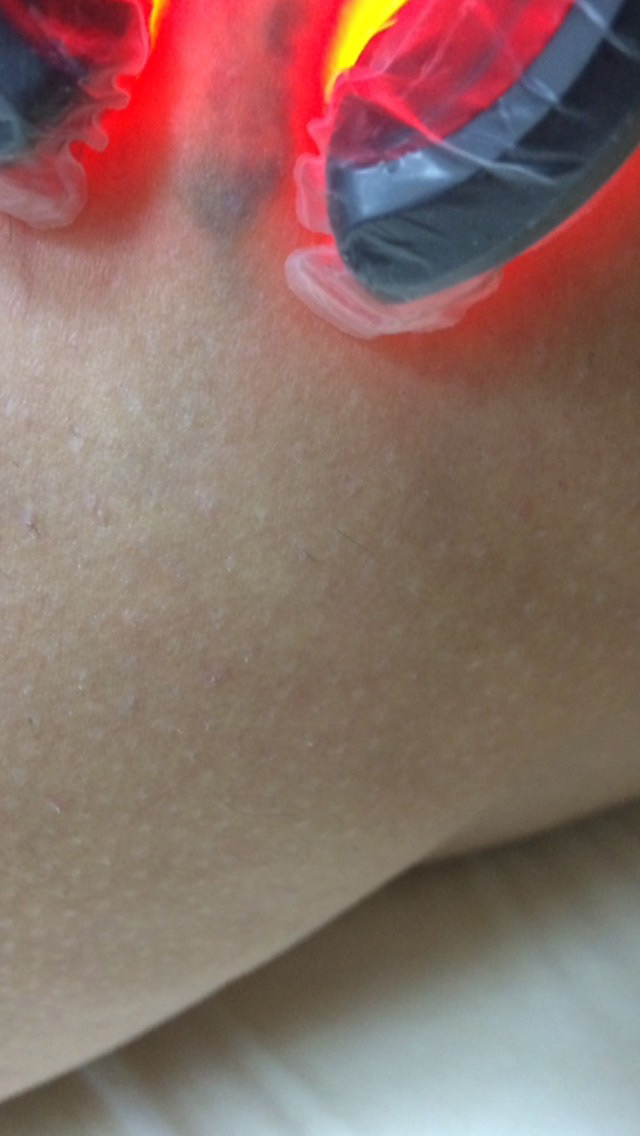 Fig. 4.
Sclerotherapy is the injection of a special solution into the lumen of unwanted veins with a thin needle (Figures 5, 6, 7). The drug acting on the endothelium of the venous wall leads to adhesion and subsequent sclerotherapy of the vein. This simple but effective method of eliminating small varicose veins and venous networks provides a minimum of patient discomfort and has been used for more than a hundred years.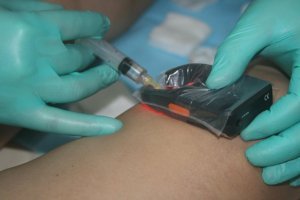 Fig. 5.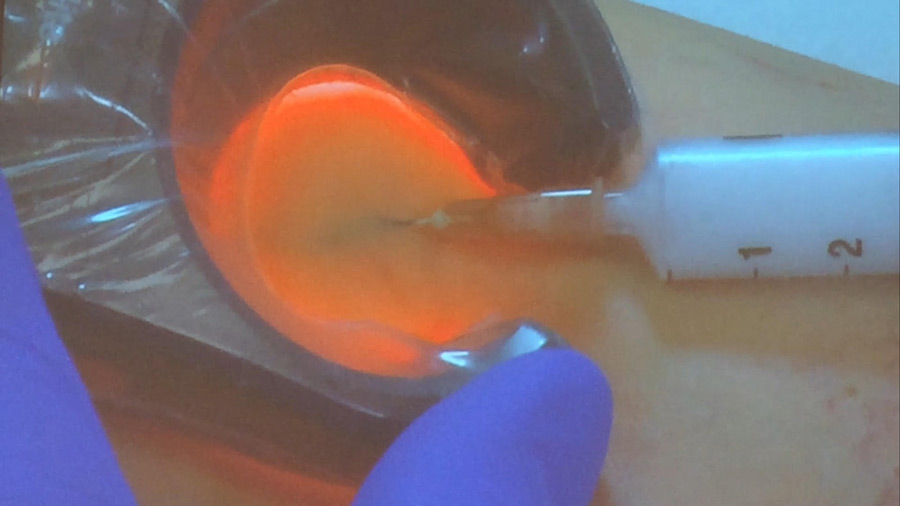 Fig. 6.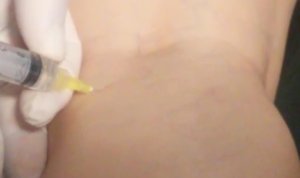 Fig. 7.
Fundamentally important is that patients return to work immediately after the procedure, while having only short-term and a few restrictions on sports and power loads. The effect of the procedure comes almost immediately, with the final result occurring within a period of 2-3 weeks to 6-9 months.
At the same time, in Ukraine the frequency of procedures is minimal in comparison with other European countries (Fig. 8).
Fig. 8.
The data presented clearly demonstrate the possibilities and prospects of the market for aesthetic sclerotherapy of telangiectasias in our country.
What methods of sclerotherapy exist? How to choose a drug for sclerotherapy from the whole variety of proposals?
When choosing a drug, it is necessary to be guided by obvious criteria: proven effectiveness, comfort of procedure and safety.
One of the few drugs in the world that are approved for sclerotherapy is polidocanol, which is approved by the FDA, in our market, polydocanol is represented by a preparation of ethoxiclerol manufactured by Krojsler Pharma GmbH Germany. Ethoxiclerol is released at concentrations of 0.25%, 0.5%, 1.0%, 3.0% (Fig. 9), initially the drug was developed as a local anesthetic, so its administration is virtually painless.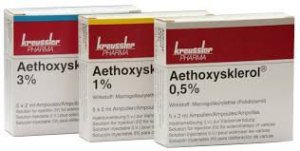 Fig. 9.
How competent is the use of sclerotherapy in the treatment of telangiectasias in Ukraine?
Absolutely competent, or speaking in a more familiar language for on-label cosmetologists. Since, according to clinical and practical recommendations of the Association of Angiologists and Vascular Surgeons of Ukraine, NAMS of Ukraine, the National Institute of Surgery and Transplantology them. A. A. Shalimova (2014), for the treatment of telangiectasias and reticular veins as a method of treatment, sclerotherapy has been determined. It should also be noted that in the European recommendations, indications for sclerotherapy are significantly extended.
What it takes to perform sclerotherapy? How to make sclerotherapy safe?
Scleroteprapy of telangiectasias should be performed in conditions of a procedural (manipulative) room, by a qualified specialist.
In my opinion, sclerotherapy is a sufficiently safe method of treating telangiectasias when it is used according to indications, with strict account of contraindications and compliance with the protocol of care.
We single out the pre-procedural stage, directly sclerotherapy, the recommendations of the postprocedural stage. Each of these stages is extremely important for the safe achievement of the desired result and has its clearly defined objectives.
o, at the first, pre-procedural stage, the main tasks are clinical and mandatory Doppler examination of the patient with revealing of indications, contraindications, determination of the need for various methods of treatment, the possibility of their combination and consistency. It should be clearly understood that sclerotherapy can be both an independent method of treatment of telangiectasias, and the final stage after the operation, eliminating the cosmetic defects.
At the stage of sclerotherapy it is very important to scrupulously follow the technique, taking into account the limiting doses and concentrations, which are calculated individually, depending on the body weight, the type of sclerotherapy and the concentration of the drug.
While at the post-procedural stage not only recommendations are given on the way of life, but follow-up examinations are carried out with a given sequence to identify the predictors of complications, their prevention and, if necessary, treatment.
All of the above makes it possible to effectively and safely perform sclerotherapy in the treatment of telangiectasias and reticular veins.
Source: Journal of Les Nouvelles Esthetiques Ukraine (No. 1/2017)